Official 2014 Latest Apple 9L0-064 Dump Free Download(41-50)!
QUESTION 41
From the list below, choose two new features of Time Machine introduced in OS X Mountain Lion.
Select Two:
A. Local snapshots on portable Macs.
B. Encrypted backups on Time Capsule.
C. Restore from a Time Machine backup.
D. Encrypted backups on external disks.
E. OS X Recovery partition on external disks.
F. Backup Now in the Time Machine menu item.
G. The ability to choose multiple backup locations.
Answer: BG
QUESTION 42
Examine the image above. If a Mac displays this flashing folder at startup, it
A. is in Internet Recovery mode
B. is looking for a Netboot Server
C. is unable to find a startup disk that contains boot files
D. indicates that the unit has failed to pass the power on self test
Answer: C
QUESTION 43
Please examine the image above. A customer with a MacBook Air (13-inch, Mid 2011) sees this image on his screen. What would cause his Mac to display this image at startup?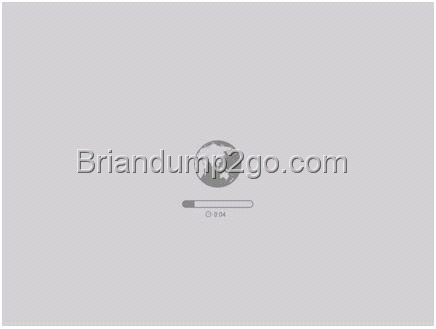 A. Internet Recovery has started downloading the OS X Recovery system image.
B. The Mac is starting up from an external USB or Thunderbolt storage device.
C. EFI has detected a hardware issue.
D. Apple Service Diagnostics is loading.
Answer: A
QUESTION 44
Which statement about FileVault 2 is TRUE?
A. Once a user enables FileVault 2, it cannot be disabled.
B. FileVault 2 can only be enabled on non-administrator user accounts.
C. There is no way to recover data from a FileVault 2 protected volume if a login password is lost.
D. When a user enables FileVault 2, the startup volume is encrypted and access to the volume is password protected.
Answer: D
QUESTION 45
Teresa would like to share files on her Mac Pro with OS X Mountain Lion over an Ethernet network. Which option is a valid choice to enable this feature?
A. System Preferences > sharing > Select the File sharing checkbox.
B. Network Utility > Services > Select the File Sharing checkbox.
C. System Preferences> Network> File Sharing > Select the Enable checkbox.
D. System Preferences > Security & Privacy > Sharing > Click the Enable button in the File Sharing section.
Answer: A
QUESTION 46
Which of the following features of OS X Mountain Lion helps protect you from downloading and installing malicious software on your Mac?
A. FileVault 2
B. Gatekeeper
C. Mission Control
D. Location Services
Answer: B
QUESTION 47
An iMac starts, but becomes unresponsive after the login screen. How can you easily disable login items to see if they are causing the issue?
A. Hold the shift key at start up to Safe Boot.
B. Start the iMac to OS X Recovery and reinstall OS X Mountain Lion.
C. Hold command S to enter Single User mode, then move login items with the command line.
D. Start the iMac to OS X Recovery, then open the terminal and use it to delete all login items.
Answer: A
QUESTION 48
How would an OS X Mountain Lion user change the order of the network services, so that Wi-Fi is the first choice?
A. Select Wi-Fi as primary service in the Security & Privacy > Firewall settings.
B. Set Wi-Fi as the priority network service in the Airport Utility preferences.
C. Select Wi-Fi as the default network interface in the info tab of the Network Utility.
D. Select "Set Service Order" in the Network preference pane's Action menu, then drag Wi-Fl to the top
of the list.
Answer: D
QUESTION 49
What feature of Os x Mountain Lion allows a customer to reset their forgotten login password without having to have a second admin user?
A. Safe Boot.
B. EFI reset mode.
C. Verbose mode.
D. Reset a password using an Apple ID.
Answer: D
QUESTION 50
Tony just opened the box of a brand new MacBook Air. He would like to create a new iCloud account for this Mac. How can he quickly accomplish this goal?
A. He can create a new OS X user, then launch Safari and go to iCloud .com to create an account.
B. He can only create a new iCloud account on IOS devices, so he must create the account on an iPhone,
iPad, or iPod touch.
C. He can create a new iCloud account during initial setup using the Create a Free Apple ID button.
D. He can create a new OS X user, then open System Preferences > User & Groups > Click on the Create Apple ID button.
Answer: C
If you want to pass the Apple 9L0-064 Exam sucessfully, recommend to read latest Apple 9L0-064 Dump full version.