2014 Latest Apple 9L0-314 Dump Free Download(111-120)!
QUESTION 111
A customer setting up a small business with a wireless network wants to ensure that both the PC's running older hardware, and the Macs have secure access to the wireless network using encryption. What security feature on the AirPort Extreme (Gigabit) Base Station would provide that encryption?
A. DSSS
B. WAN privacy
C. Wired Equivalency Privacy (WEP)
D. Access control by MAC address
Answer: C
QUESTION 112
You are attempting to power a Mac mini (original) with an 85 Watt power adapter. Will this work?
A. Yes
B. No
Answer: A
QUESTION 113
Examine the exhibit. Which of these is a valid memory configuration for a Mac Pro (Early 2008)?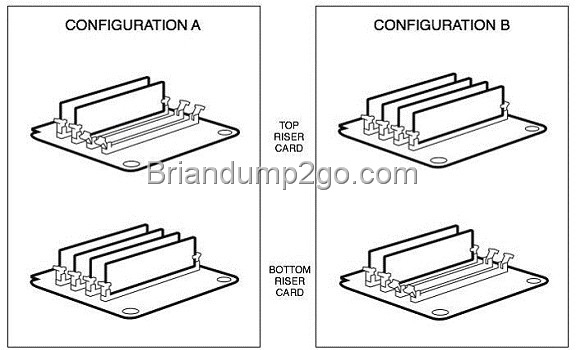 A. Configuration A: Two DIMMs on top riser card, four DIMMs on bottom riser card.
B. Configuration B: Four DIMMs on top riser card, two DIMMs on bottom riser card.
Answer: B
QUESTION 114
Which THREE of the following probing questions are most appropriate to ask the customer when troubleshooting AirPort issues? SELECT THREE
A. Are just wired computers affected?
B. Are just wireless computers affected?
C. Can the customer print to a USB printer?
D. What is the computer's processor speed?
E. What is the URL of the website the customer is attempting to access?
F. Are any hubs, routers, or other computers connected to the network?
Answer: ABF
QUESTION 115
In order to read ANY of the diagnostic LEDs in a Mac Pro (Early 2008), you must press the DIAG_LED button on the logic board.
A. True
B. False
Answer: B
QUESTION 116
How did you prepare for this exam? (Choose all that apply.)
A. Apple Mac OS X Help Desk Essentials leader-led course
B. Apple leader-led technician training course
C. Self-study AppleCare Technician Training purchased from Apple
D. Non-Apple courses or books
E. On-the-job training / apprenticeship
F. Self-taught
G. None of the above
Answer: E
QUESTION 117
If you took an Apple leader-led course to prepare for this exam, when did you take it? (Choose the closest answer.)
A. Last week
B. Two or three weeks ago
C. One month ago
D. Two months ago
E. Three months ago
F. More than three months ago
G. Did not take an Apple leader-led course
Answer: E
QUESTION 118
What additional Apple certifications do you have or plan to seek? (Choose all that apply.)
A. Apple Certified Technical Coordinator
B. Apple Certified System Administrator
C. One or more of the Apple Digital Media Pro certifications
D. None
Answer: B
QUESTION 119
Where is the BEST place to look for information regarding special take-apart tools for an Apple product?
A. Discussions
B. Service News
C. User's manual
D. Service manual
Answer: D
QUESTION 120
You are running Apple Hardware Test on a customer's Mac. The test fails with an error code. Which one of the following resources is the Apple-recommended choice for locating the meaning of this code?
A. Apple Hardware Test Help
B. Service Source
C. Service manual
D. User's manual
Answer: B
If you want to pass the Apple 9L0-314 Exam sucessfully, recommend to read latest Apple 9L0-314 Dump full version.